KABS ~ We keep you moving!
Kosciusko Area Bus Service
NOTICE:
As a result of a court order, effective April 18, 2022, the Centers for Disease Control and Prevention's (CDC) January 29, 2021 order requiring masks on public transportation is no longer in effect.
However, it is recommended that a mask is worn while taking public transportation.
NOTAR:
Como resultado de una orden judicial, a partir del 18 de abril de 2022, la orden de los Centros para el Control y la Prevención de Enfermedades (CDC) del 29 de enero de 2021 que requiere máscaras en el transporte público ya no está vigente.
Sin embargo, se recomienda que se use una máscara mientras se toma el transporte público.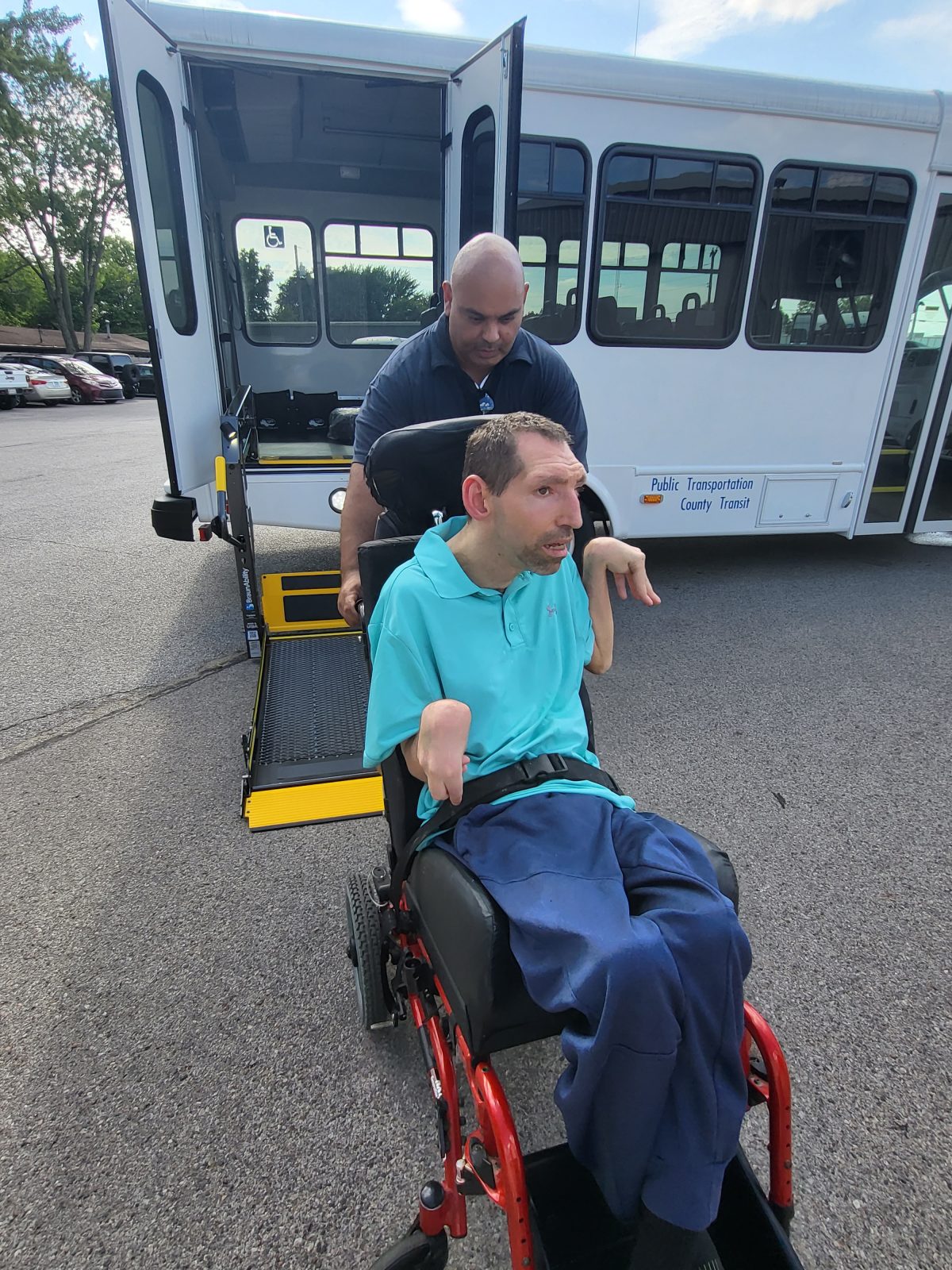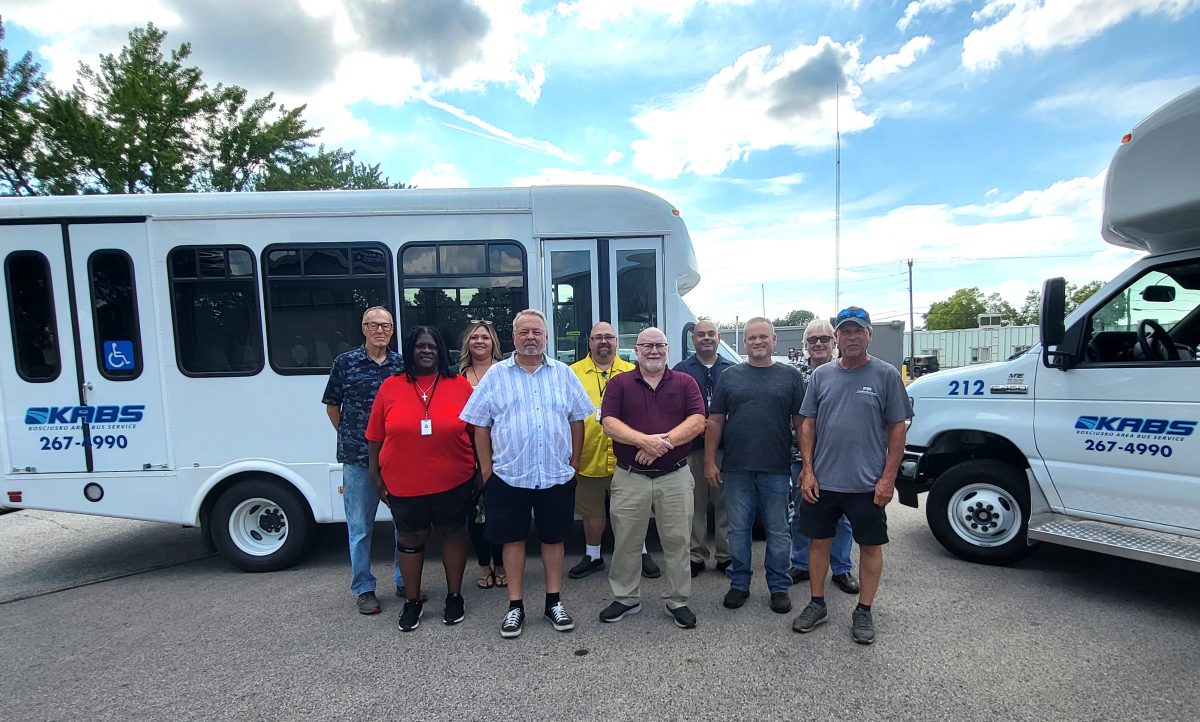 Great for work, shopping, appointments…anywhere you need to go in Kosciusko County! To schedule a ride call: 574-267-4990
Ideal para el trabajo, las compras, las citas… ¡En cualquier lugar al que necesites ir en el condado de Kosciusko! Para programar un viaje, llame al: 574-267-4990
YOUR TRANSPORTATION ALTERNATIVE IN KOSCIUSKO COUNTY!
Reliable and Affordable Curb-to-Curb Service.
KABS serves all of Kosciusko County.
Monday – Friday, 5:30 a.m. – 8:00 p.m.
KABS is Medicaid approved and can transport to medical appointments state-wide.
Passenger Guide below.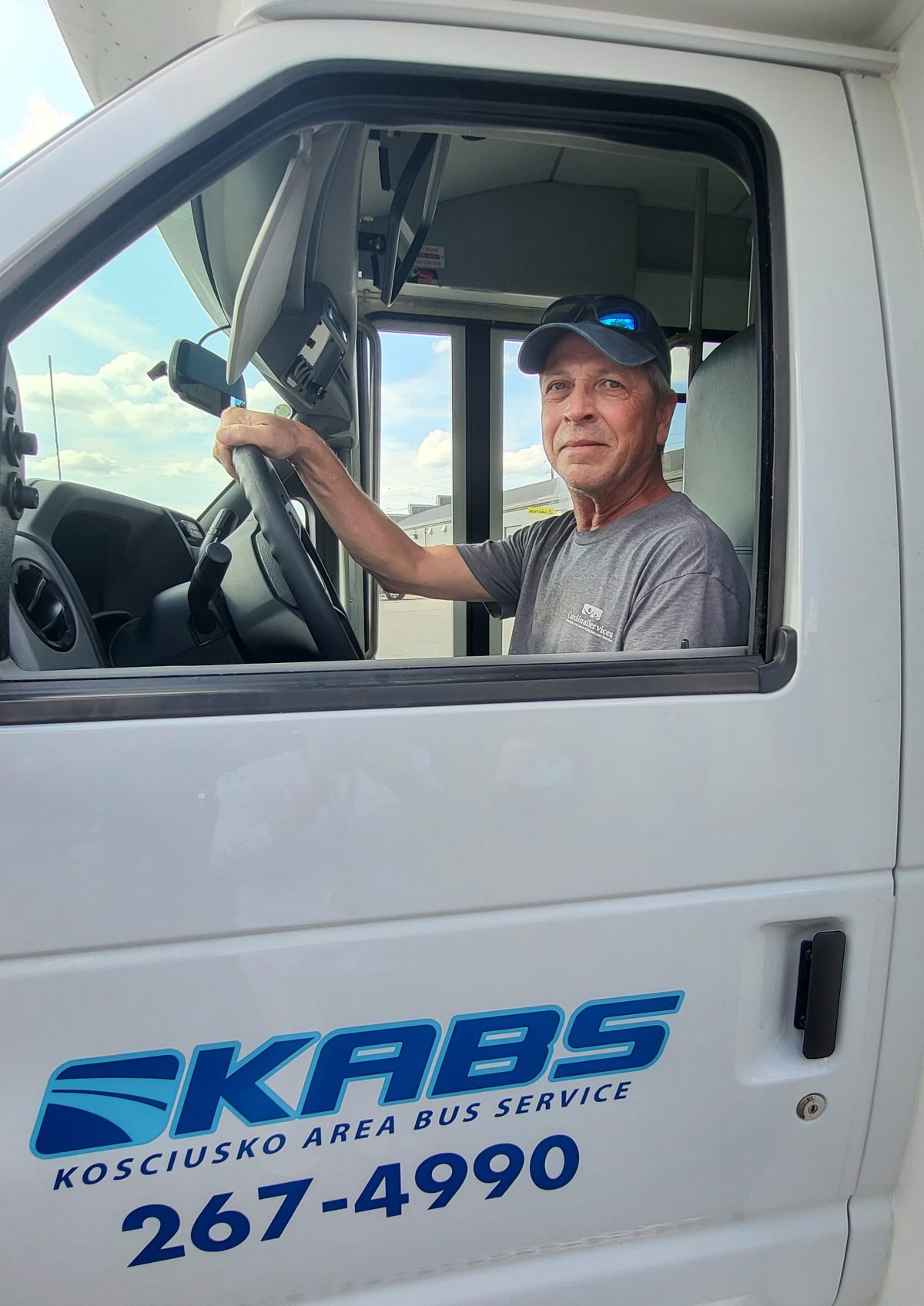 Spanish Speaking Riders
Folletos en español
Las guías de pasajeros están  disponibles  en español a continuación. También puede detenerse  en  1804  E. Winona Ave. Varsovia,  o llamar al  574-267-4990 para  que se le envíe por correo  sin  costo alguno.
Público Pasajero Guiar 2023-2024
Speech or Hearing Impaired
TTY Services
Passengers can access TTY services through Relay Indiana by calling 1-800-743-3333 and providing them with the KABS office or toll-free number. The Relay Indiana staff will then translate the conversation for them using TTY services.
 3 Ways to Ride/3 formas de montar:
Pre-Scheduled Trip—Call or email a day in advance of travel time to make a reservation.
Standing Reservation—We pick you up each day the service is needed. You never have to call except to cancel.
Same Day Service—If you can't call a day in advance, KABS will still do its best to meet your transportation needs.
Viaje preprogramado:llame o envíe un correo electrónico un día antes de la hora de viaje para hacer una reserva.
Reserva depie: lo recogemos cada día que se necesita el servicio. Nunca tiene que llamar, excepto para cancelar.
Servicio el mismodía: si no puede llamar con un día de anticipación, KABS hará todo lo posible para satisfacer sus necesidades de transporte.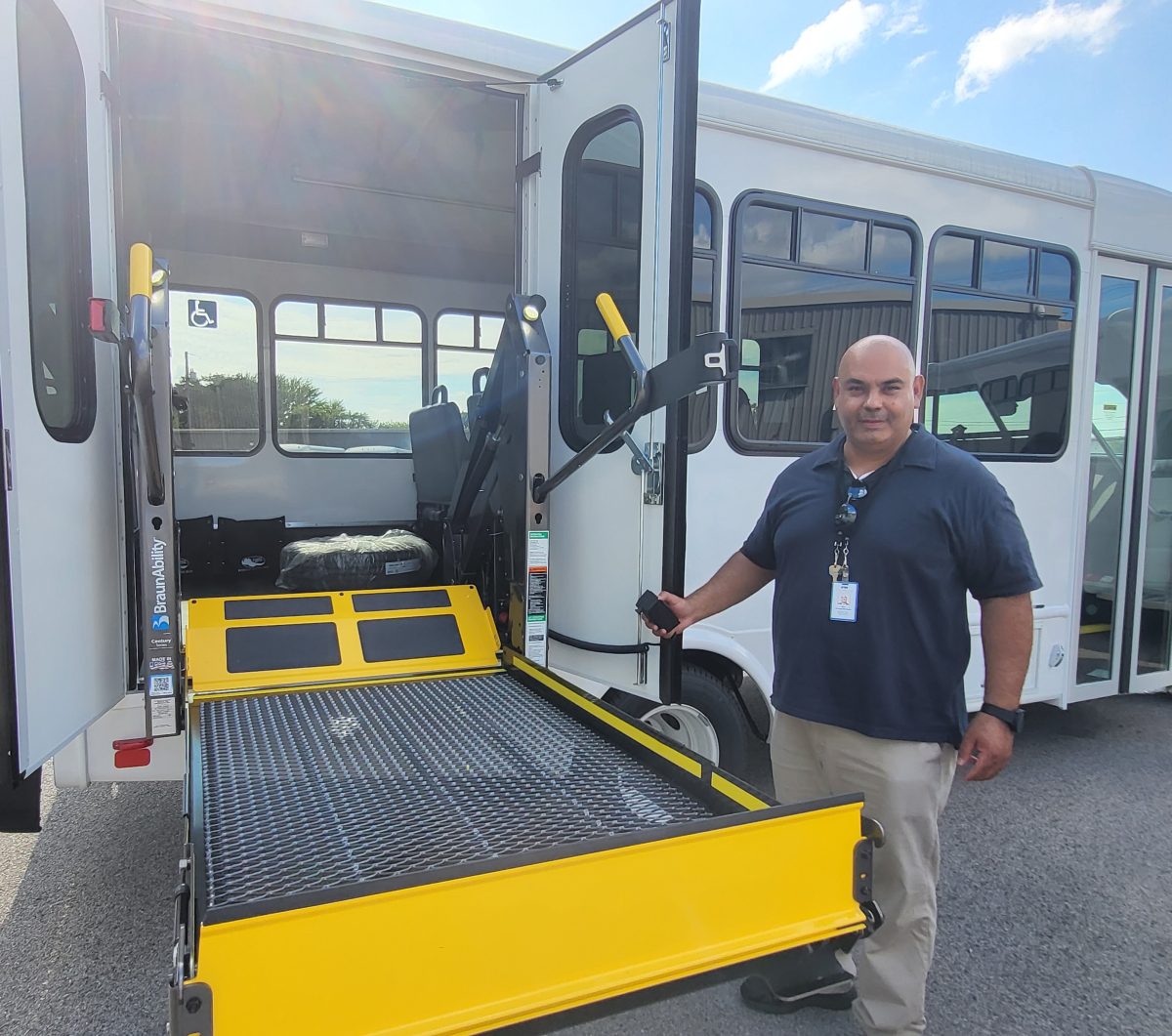 FARE AND FEE SCHEDULE / TARIFAS Y TABLA DE TARIFAS
With 24-hour notice / Con 24 horas de antelación:
| Miles Traveled-Recorridos | 0-10 miles | 11-25 miles | 26+ miles |
| --- | --- | --- | --- |
| Cost - Costar | $1.00 one way - unidireccional | $2.00 one way - unidireccional | $3.00 one way - unidireccional |
Same Day Fee: Add $5.00 to the appropriate fare if you are calling for a ride the same day.
No-Show Fee: There will be a $5.00 fee for no-shows, or rides not appropriately canceled at least one hour in advance.
Correct change is required. Our drivers cannot make change.  Purchase tickets or tokens at 1804 E. Winona Avenue between 8:00 A.M. and 5:00 P.M. Monday through Friday.
Tarifa del mismo día: Agregue $ 5.00 a la tarifa apropiada si está llamando para un viaje el mismo día.
Tarifa por no presentarse: Habrá una tarifa de $ 5.00 por no presentarse o los viajes no cancelados adecuadamente con al menos una hora de anticipación.
Se requiere un cambio correcto.  Nuestros conductores no pueden hacer cambios.  Compre boletos o fichas en 1804 E. Winona Avenue entre las 8:00 a.m. y las 5:00 p.m. de lunes a viernes.
Title VI – Civil Rights Complaint Procedures
KABS operates its programs and services without regard to race, color, and national origin in accordance with Title VI of the Civil Rights Act of 1964.  Any person who believes he or she has been aggrieved by any unlawful discriminatory practice under Title VI may file a complaint with KABS.
For more information or alternative language formats on KABS Civil Rights Plan and the procedures to file a complaint contact Steven Lockridge, KABS Transportation General Manager, Contact telephone 574-371-1410 and TTY contact 800-743-3333; steven.lockridge@cardinalservices.org or visit our office at 1804 E. Winona Ave., Warsaw, IN 46580. The Title VI Notice to Public and Complaint Procedures are below in both Spanish and English languages. In addition, the KABS Consolidated Civil Rights Complaint Form is below is both Spanish and English Languages.
A complainant may file a complaint directly with the Federal Transit Administration by filing a complaint with:
The Office of Civil Rights. Attention: Title VI Program Coordinator
East Building, 5th floor -TCR
1200 New Jersey Ave, SE. Washington DC. 20590
KABS Title VI Notice to Public and Complaint Procedures
KABS Americans with Disabilities Act Policy
Combined ADA – Title VI Discrimination Complaint Form
FTA Consolidated_Civil_Rights_Complaint_Form-1
Título VI Procedimientos de quejas de derechos civiles
KABS opera sus programas y servicios sin tener en cuenta la raza, el color y el origen nacional de acuerdo con el Título VI de la Ley de Derechos Civiles de 1964.  Cualquier persona que crea que ha sido agraviada por cualquier práctica discriminatoria ilegal bajo el Título VI puede presentar una queja ante KABS.
Para obtener más información sobre kabs del Plan de Derechos Civiles de KABS y los procedimientos para presentar una queja, comuníquese con Steven Lockridge, Gerente General de Transporte de KABS, teléfono de contacto  574-371-1410 y contacto de TTY al 800-743-3333; steven.lockridge@cardinalservices.org, o visite nuestra oficina en 1804 E. Winona Ave., Varsovia, EN 46580. El Título VI Aviso al Público y procedimientos de quejas se encuentran a continuación en los idiomas español e inglés. Además, el Formulario de Queja de Derechos Civiles Consolidados de KABS a continuación es tanto en español como en inglés.
Un reclamante puede presentar una queja directamente ante la Administración Federal de Tránsito presentando una queja ante: La Oficina de Derechos Civiles. Atención: Título VI Coordinador del ProgramaEast
Building, 5to piso -TCR
1200 New Jersey Ave, SE. Washington DC. 20590
KABS Título VI Aviso al Público y Procedimientos de Quejas
Política de la Ley de Estadounidenses con Discapacidades de KABS
ADA Combinada – Formulario de Queja de Discriminación del Título VI
If any information is needed in another language or alternate format, contact Steven Lockridge, KABS Transportation General Manager, phone: 574-371-1410; TTY: 800-743-3333; email: steven.lockridge@cardinalservices.org